Test Tube Racks

Description
These light, flexible, and chemical-resistant polypropylene racks are autoclavable. All racks allow convenient storage and include molded-in index coordinates and flat areas for labeling.
Capacity: Full and Half Rack
Available Colors - Blue, White, Yellow, Red
90 Placer, for 12 - 13mm Diameter Tubes
60 Placer, for 15 - 17mm Diameter Tubes
40 Placer, for 20 - 21mm Diameter Tubes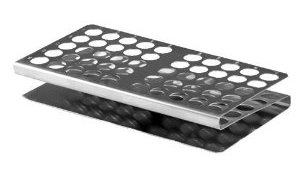 The Z-shaped stainless test tube rack is a 50 hole rack for 12–13 and 15-17mm test tubes.